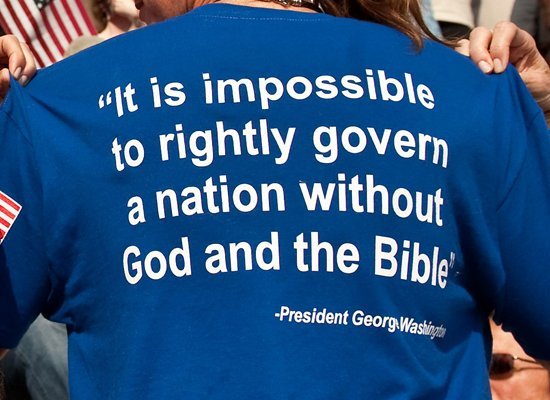 There have been few topics more controversial, as of late, than
Glenn Beck
's August 28
th
rally to "restore honor". First, let's settle the turnout debate. CBS News commissioned an
estimate
this week through the independent company AirPhotosLive.com, which used aerial footage of the event to calculate (within a margin of error of 9000 people) that roughly 87,000 were in attendance. Numerous other sources have since attested to this figure.
...Take a moment for that number to sink in. Nearly a hundred thousand people came out in support of Glenn Beck's message, even though it's not entirely apparent what that message was.


Indeed, video interviews of those in attendance (conducted by Slate Magazine) failed to yield any clear goal for the rally; instead, rally-goers consistently strung together politically-unrelated and generally incoherent Beckisms. The result was baffling, to say the least.


Beck himself said of the rally, "It has nothing to do with this city or politics. It has everything to do with God almighty... Faith is in short supply. To restore America, we must restore ourselves."


Pictures of the event reveal a variety of sentiments, but I think the foremost of these can be summed up with the t-shirt slogan seen above: "It is impossible to rightly govern a nation without God and the Bible."


The shirt attributes the quote to George Washington, but a simple Google search immediately reveals it to be fabricated. In fact, the same search returns a more fitting statement on religion (and one that wasn't pulled out of someone's ass) from our nation's first president: "We have abundant reason to rejoice that in this Land the light of truth and reason has triumphed over the power of bigotry and superstition."


I think it's safe to say that this entire event boils down to the same tired debate. To the seasoned atheist, the Argument from Morality is so very played out as to be immediately dismissible. Are we, as atheists, supposed to be so lacking in basic self-preservation instincts as to have no concern for the future of our society?


In writing this article, I set out to denounce Beck's rally as a breeding ground for anti-atheist sentiment. While this isn't an entirely inaccurate description, the results of my research were, quite frankly, less sinister and more... pitiful. While there certainly was hatred abound, its focus was nebulous at best. The collective assembly was one too deluded by faith and Fox News to recognize that our nation was not founded on the same principles as their local congregation and, perhaps more importantly, that their religious rights are not in any way endangered.


Christopher Hitchens said of the event, "...Nobody with any feeling for the zeitgeist can avoid noticing the symptoms of white unease and the additionally uneasy forms that its expression is beginning to take... Saturday's rally was quite largely confined to expressions of pathos and insecurity, voiced in a sickly and pious tone.


"What does it take to believe that Christianity is an endangered religion in America or that the name of Jesus is insufficiently spoken or appreciated?"


The answer? Evidently, exposure to Glenn Beck.


...Or
this
.